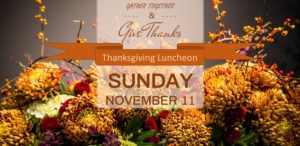 The Thanksgiving Luncheon is scheduled for Sunday, November 11 after worship. This is a week earlier than usual. The church provides the turkeys, turkey gravy, rolls, beverages, paper supplies and ice. We will need help in cooking and carving the turkeys, preparing the turkey gravy, decorating (Saturday), setting up, cooking, monitoring the food tables, and of course, clean up. The dining tables, serving and dessert tables, chairs and tablecloths will already be set up for the event. We will also need side dishes such as potatoes, sweet potatoes, dressing, cranberry sauce, salads, etc, plus desserts including pumpkin pie, pecan pie, sweet potato pie and other delicious treats.
There is a sign up sheet in the church foyer. Please contact the church office at 575-258-4250 if you have any questions.
Please invite friends and family to join us for good food and fellowship.