The First Christian Church Memorial Prayer Garden, located just south of the main building, was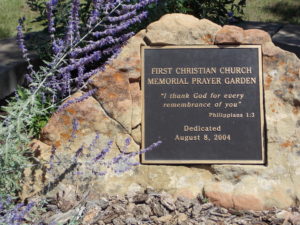 dedicated on August 8, 2004. The Prayer Garden was designed to provide a serene, beautiful landscaped area for the interment of cremains of those who have been members of this church, their families, nonmembers and for those persons who have had a caring interest in the church. It is our intent that the Prayer Garden will be available to all who feel a closeness to the church and it's ministry. Additionally, the Prayer Garden provides a quiet place for prayerful reflection, meditation and renewal for all.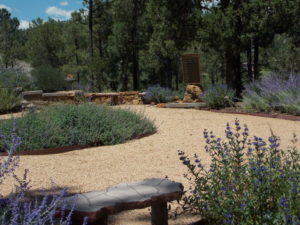 The Prayer Garden also has a separate memorial bronze plaque with name plates in memory of loved ones interred elsewhere but remembered here.
The Prayer Garden is an on-going project that is dependent on financial contributions for the church family. Designation of contributions is encouraged.
For details and information on interment policies, cost and arrangements, please contact the church office.